Students Earn National Honors at Siemens Science Competition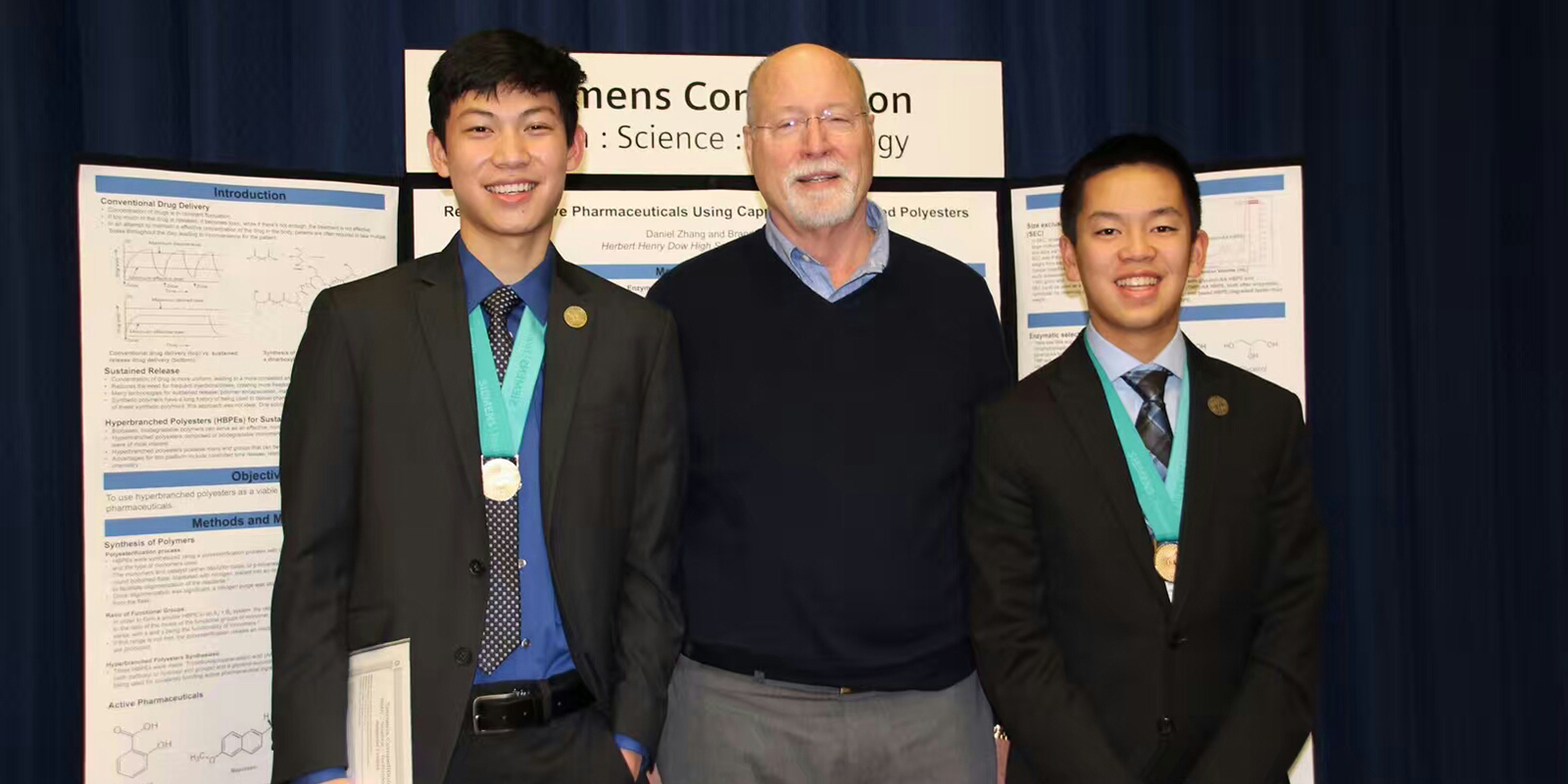 Two H.H. Dow High School seniors on Tuesday tied for third place in the nation's most prestigious science competition for high school students.
On Tuesday, Brandon Zhu and Daniel Zhang, both of Midland, were awarded a $25,000 scholarship at the finals of the Siemens Competition in Math, Science & Technology at George Washington University in Washington, D.C. They were among four teams to win $25,000 prizes. The top prize was a $100,000 scholarship, and the second-place award was a $50,000 scholarship. Scholarship prizes of the same amounts also were given to individual winners.
The Dow High students made it to the finals after winning a regional phase of the competition (and a $6,000 scholarship} at the University of Notre Dame in November.
The two initially were reluctant to enter the Siemens Competition — and waited until almost the last minute — but were encouraged to enter during a summer internship at Michigan State University's STEM center on St. Andrews Road in Midland, also known as MSU-St. Andrews.
 "We were a little reluctant," Daniel said. "We decided to do the medical field platform because there would be tangible results that could be applied to humans in the future.
"We turned it in with only six minutes to spare."
Brandon and Daniel worked together on "Release of Active Pharmaceuticals Using Capped Hyperbranched Polyesters," a project aimed at developing controlled-release drug therapies. Such therapies could increase the effectiveness and reduce the side effects of pharmaceuticals.
While at the finals in Washington, which included presenting their work to a panel of judges, the students had promising informal conversations about the project's possibilities.
"We talked to a couple of industry professionals. … They were impressed," Brandon said. "I'm thinking that this is a very viable method in the future."
The students' research involves an early-stage method using "polymer drug conjugates" to regulate the release of certain pharmaceutical compounds. Brandon and Daniel are interested in how this method "could be applied using common medications such as: naproxen for pain relief; salicylic acid, a common acne treatment; and hydrocortisone, used to treat a variety of skin conditions," according to the Siemens Competition website.
In the awards ceremony webcast live on Tuesday, Brandon and Daniel were the first team featured in video descriptions of each project.
In addition to discussing their project and how they felt when they learned they were finalists, the students also praised their mentor, Patrick Smith of MSU-St. Andrews.
Smith had words of praise for the team Tuesday, noting that they will share more than $30,000 in scholarship money from the regional and national competitions.
"They did just a phenomenal job," he said.
He also noted the high caliber of all students in the finals.
"These are some of the brightest high school kids in the country," he said.
Brandon and Daniel both had summer internships last year at Michigan State University's STEM center on St. Andrews Road in Midland.
Neither Brandon nor Daniel has decided where to attend college, but Brandon is interested in studying biochemistry while Daniel is considering a possible double major in computer engineering and biology.
The competition started with more than 2,500 students and 1,800 research project submissions, and involved more than two months and five rounds of judging by scientific experts. Twenty-one high school students were selected as national finalists.
"All of the competitors' depth of knowledge and ability to grasp complex concepts gives us hope for the next generation of scientists," said Emilia Entcheva, lead judge at the finals competition and professor in the Department of Biomedical Engineering at George Washington University, during the awards ceremony.