Summer Research Experience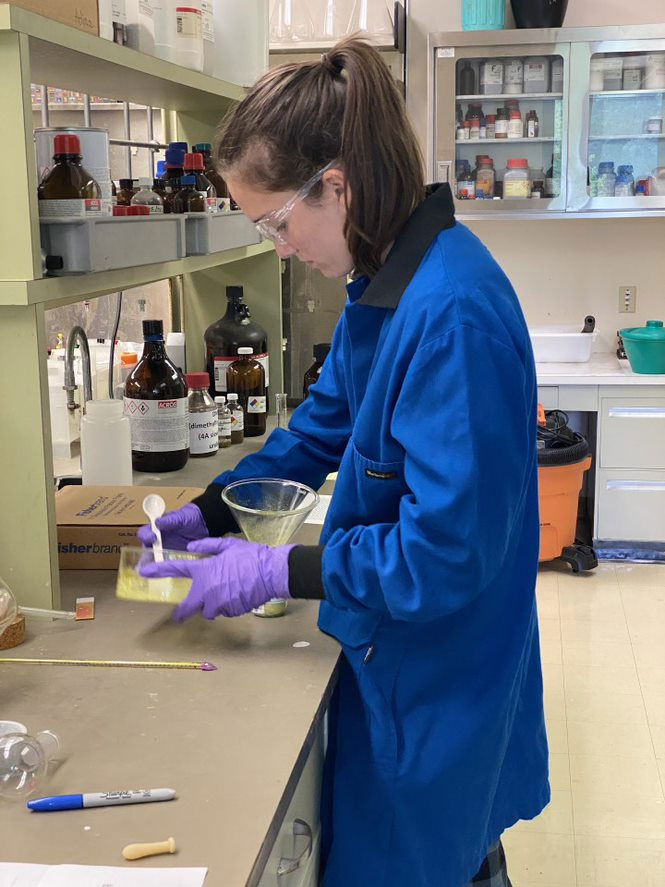 The Summer Research Application is open through April 21.  Please review the information below for program details and the link to the 2023 Application. 
This summer's program will run seven weeks, Monday through Thursday, from 9:00 am to 4:00 pm from June 19 through August 4 at MSU St. Andrews in Midland, Michigan. Rising high school seniors and 2023 graduates from the Great Lakes Bay Region, who are at least 16 years of age are invited to apply for the opportunity to participate in a unique summer learning experience performing hands-on research alongside St. Andrews' faculty. Students will investigate novel problems related to chemistry, environmental science, materials science, 3D printing, engineering and sustainability.
Program Overview 
Over the seven weeks, students will engage in daily research, under the direction of a MSU faculty preceptor, that will culminate with a poster presentation scheduled during the last week of the program. All activities will occur at the MSU St. Andrews research facility in Midland, Michigan, Monday through Thursday, six hours per day from 9:00 am to 4:00 pm, with a one-hour lunch. Program sessions will not be held in the evenings or on weekends. Students will not participate on Monday, July 3, and Tuesday, July 4 in celebration of the Independence Day holiday. Selected students should be available to participate in person for the program's entirety and commit to the above schedule. Please note that transportation and housing are not provided.
2023 Participation Fee
The 2023 participation fee for accepted students is $900.00 for the seven-week program.
Students will be notified of their acceptance status via email on Monday, May 1.
Summer 2023 participation fees will be due by Friday, May 19.
Payments will be accepted only by check or cashier's check, payable to Michigan State University.
Financial Assistance is available through ACS Project SEED
Financial assistance for accepted students is available for students that meet the eligibility requirements through the ACS Project SEED program. 

Students must apply for the ACS Project SEED program by April 21.
Parent/Guardian Permission Teacher Recommendation Forms
A Parent/Guardian Permission form is required. Within the application, you will be asked to enter your parent/guardian's email address. We will send the form directly to the email you provide. Please inform your parent/guardian and teacher to watch their email.
A teacher recommendation form is required. Within this application, you will enter your teacher's name and their official school email address. You do not need to ask your teacher for a separate recommendation. Please inform the teacher that they will receive an email with a link to an electronic form and that the deadline for completion is Monday, April 10.
Your application will not be considered until the parent/guardian permission form and the teacher recommendation are received. By submitting this application, you give MSU permission to contact your teacher.  
Important Dates
Application opens Monday, March 6.
Application closes Friday, April 21, 2023
Parent/Guardian permission due Monday, April 24, 2023
Teacher recommendation due Monday, April 24, 2023.
All applicants will be informed of their acceptance status via email on Monday, May 1, 2023.
All accepted applicants must confirm their participation by Monday, May 8, 2023. We will include information regarding the participation fee, and financial assistance in this email.
The payment deadline for accepted students NOT applying for financial assistance is Friday, May 19, 2023.
Students applying for financial assistance will complete a separate application.
Benefits of Summer Research
Gain hands-on research experience in a lab.
Excellent addition to your resume or college application.
Helps to determine a career path. 
2023 Application
Please read our parent and participant handbook for youth programs for information on policies and procedures, as well as during and after hours contact information.
For questions regarding the application process and the summer fellowship program please call 989 374-9900.
Summer Research Student Feedback 
"Just another one of the benefits of this summer was I found a couple scholarships that go out to students with research internship experience…"I still can't believe how helpful one summer could be, but good things keep happening left and right thanks to that experience!" – Summer 2022 Student
"It had never really occurred to me how much a chemistry degree could get you. I never really considered the innovation or "research and development" side of things" – Summer 2020 Student
"Dr. Zhang, I can't thank you enough for that letter of recommendation. Cornell is my dream school. But seriously. This wouldn't have happened if not for the summer research. I sincerely thank you for everything so far and everything yet to come."  – Summer 2020 Student
The MSU St. Andrews facility complements and extends Michigan State University campus research. The activities conducted at the facility, support Michigan State University's general mission of research, teaching, and service outreach, and specifically advance MSU's efforts to promote the economic development of Michigan and the nation.
The preservation of the historic St. Andrews facility and the support of our ongoing STEAM outreach programming is made possible through the support of several local organizations: the Herbert H. and Grace A. Dow Foundation, the Rollin M. Gerstacker Foundation, the Charles J. Strosacker Foundation, and the Dow Chemical Company Foundation.
Program History 
Each summer since 2016, Great Lakes Bay area high school juniors and seniors have had the opportunity to participate with MSU researchers on novel projects in labs with sophisticated equipment. The projects allow students to explore new areas of science and investigate possible careers in science, technology, engineering, art, and mathematics, while improving their research skills and building their resume. 
The MSU St. Andrews Summer Research Program began in 2016 hosting students in STEM research topics.
In 2018, a new creative writing initiative was added officially putting the "A" in STEAM education at MSU St. Andrews. The writing program was facilitated by Creative 360.
For summer 2019, accepted students represented 17 different high schools.
In 2020, amidst the pandemic and the devastation resulting from a regional flood, the research program transitioned to a six-week, fully online research fellowship hosting students who represented 21 area high schools. 
For Summer 2021, the program was paused due to the continuation of COVID-19 restriction.
The 2022 program hosted 24 research students at St. Andrews who participated in ten project areas in chemistry, environmental science and materials science. 
The application process opens in March of each year and the research fellowships run from late June through mid-August. Please join our mailing list to receive notices about the summer program and other events at MSU St. Andrews.
Examples of student research include: