Girls' STEM Club Goes 3D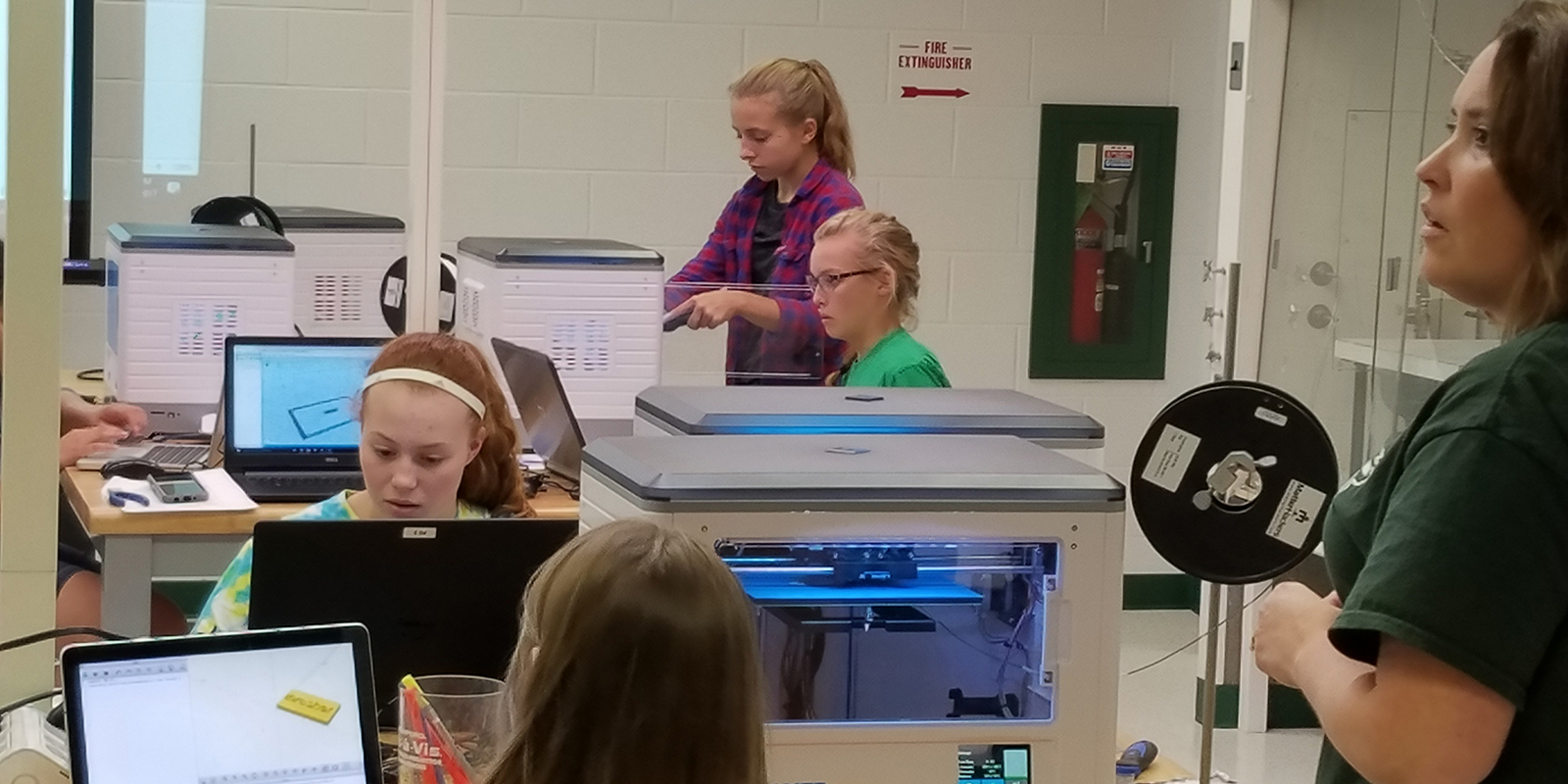 In the photo from left to right: Myah Zalusky, Adeline Doyle, and Lauren McGuirk, and teacher/advisor Jennifer Lenon. 
Students of the Girls' STEM Club from Northeast Middle School in Midland, recently visited Michigan State University St. Andrews where they were introduced to 3D printing and underlying computer-aided design (CAD) modeling through a 3D printing workshop.
The Northeast Girls' STEM Club is comprised of 8th-grade girls. Students who show interest in becoming part of the club, are nominated to become members by their teachers. Once nominated, students must initiate and complete an application to demonstrate their commitment to the club, and complete various assignments.
Two full-day sessions were held on October 25 and 26 to accommodate the club, with each workshop consisting of 16 participating students, plus the two sponsoring teachers of the club.
3D printing coupled with CAD offers an enticing pathway to enable, enhance, and reinforce STEM education related to design engineering and materials science.
Key instructional elements included: exposure to hands-on experience with entry-level 3D printers; an overview of the polymeric materials in filament form used for 3D printing; and an introduction to elementary computer-aided design (CAD) software (Tinkercad, OpenSCAD) for 3D printing design.
"Students in the club are very serious about science, but we also incorporate a lot of fun into our experiences," stated Jennifer Lenon, advisor for the club. "MSU St. Andrews provides a perfect day of hands-on learning and a great time."
Girls are involved in many activities throughout the year including various STEM related field trips. The STEM Club's signature project is working collaboratively as "citizen scientists" with the Chippewa Nature Center to collect data on bluebird box usage.
See more photos from this event on our Facebook page.
MSU St. Andrews serves the greater Midland community by providing educational opportunities in Science, Technology, Engineering and Mathematics (STEM) for all ages. MSU researchers and staff offer novel, nationally preeminent National Science Foundation (NSF) supported curricula and extra-curricular activities for students, as well as workshops to help practicing teachers assert real, individual leadership in STEM subjects.
These activities support Michigan State University's general mission of research, teaching, and service-outreach, and specifically advance MSU's efforts to promote economic vitality in the region and the state.
Programming is made possible through the support of several local organizations: the Herbert H. and Grace A. Dow Foundation, the Rollin M. Gerstacker Foundation, the Charles J. Strosacker Foundation, and the Dow Chemical Company Foundation.
Visit MSU St. Andrews Facebook to learn more or email research@msu.edu for information on events.