STEAM Stew IV Virtual Summer Camp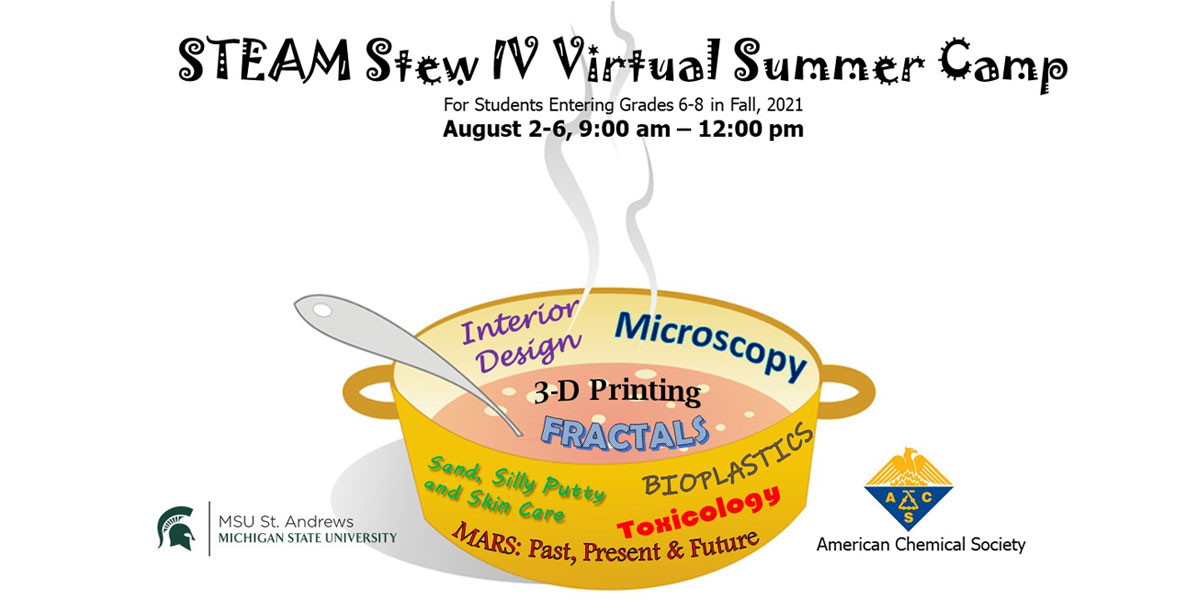 Camp Dates
Monday, August 2 through Friday, August 6, 2021 from 9:00 am – 12:00 pm.
Camp Overview
The STEAM Stew IV virtual summer camp is free, and open to students entering grades 6 through 8 in the fall of 2021.
This unique middle school camp will expose attendees to various topics, using a mixture of interactive lecture and hands-on activities. This year we have sessions on polymers (natural and synthetic), fractals, microscopy, toxicology, various types of design, and a special NASA-based curriculum related to establishing a habitat on Mars (with some sky-watching and exploration history). Each student will also get an introduction to 3-D printing, making a personal item as well as an assistive device for seniors that will be locally donated.
Objectives
basic familiarity with natural polymers and Si-containing materials.
appreciation of dose/effect relationships.
exposure to the result of integrating STEM processes for artistic and practical value.
an understanding of our interest in Mars and the long-term planning needed for space colonization.
problem-solving in a cooperative and fun atmosphere.
Registration
Registration for the summer camp is closed.
Parent and Participant Handbook for Virtual Youth Programs
Please read our parent and participant handbook for virtual youth programs for information on policies, procedures and before- and after-hours contact.
Accommodations
Michigan State University is committed to providing equal opportunity for participation in all programs, services, and activities.
Important Dates for Consideration
Please register now through Friday, June 18 at 5:00 pm EDT.
Emails will be sent by Monday, June 21, to accepted students.
Parent/Guardian must complete each child's registration by Friday, June 25, using a link provided in the acceptance email. Parents must meet the deadline to be fully registered.
Every student and parent/guardian must attend one 30-minute pre-workshop orientation session via Zoom – either Wednesday, July 21 at 7:30 pm or Thursday, July 22 at 7:30 pm
Camp Dates: Monday, August 2 through Friday, August 6, 2021 from 9:00 am – 12:00 pm via Zoom with a 15-minute break each morning.
The date for return of any loaned computer and/or hotspot will be determined as loans are made.
Attention students: MSU St. Andrews participates in the Great Lakes Bay Region STEM Passport program. If you attend the camp you can log it as a STEM experience on your passport!
The camp is conducted by the Midland Section of the American Chemical Society, Michigan State University, and MSU St. Andrews, with funding support from the Herbert H. and Grace A. Dow Foundation, the Rollin M. Gerstacker Foundation, the Charles J. Strosacker Foundation, the Dow Chemical Company Foundation, the Nexteer Steering the Future Fund, and the Bay Area Community Foundation.
Follow us on Facebook for news and updates from MSU St. Andrews.