MSU College of Education Teacher Candidates Visit Midland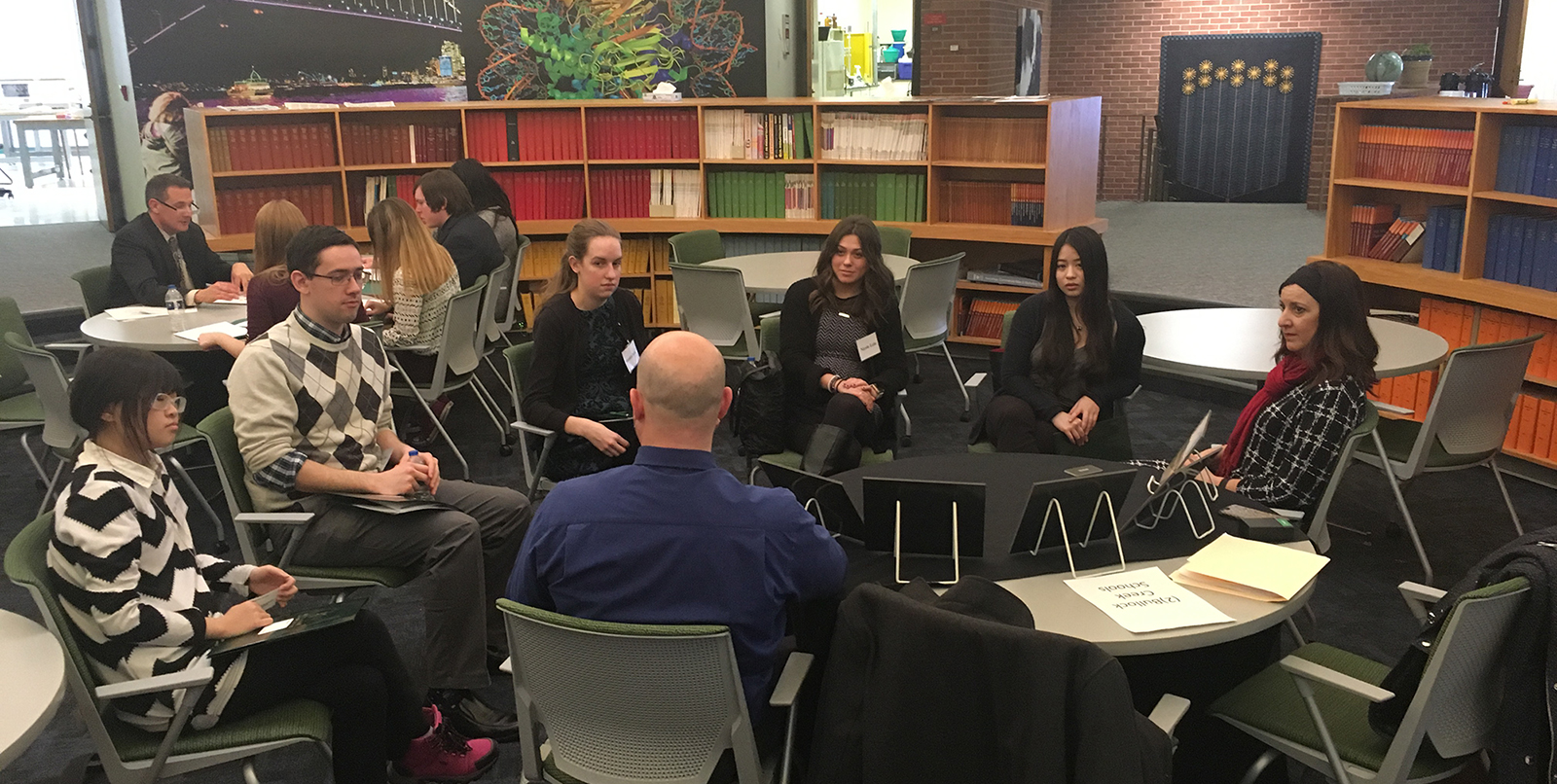 MSU St. Andrews hosted 23 future teachers on Friday, February 9, in hopes of encouraging the juniors and seniors to consider Midland as an area to work and live after completing their teaching degrees.
The students and two advisors boarded a charter bus from the East Lansing campus and braved the snowy weather to learn more about Midland area school districts.
The group's first stop was Central Auditorium where they were greeted by Midland Public Schools administrators. Superintendent Sharrow and his staff explained the district's mission, goals, and finances, in addition to the programming and opportunities available.
A second presentation was given by Grant Murschel, director of Planning & Community Development for the City of Midland. He provided an overview of Midland, and shared the many opportunities for connecting with other young professionals through the vibrant arts, entertainment, and outdoor activities in the area.
After the presentations, the group moved on to tour the new Central Park Elementary, and viewed its STEM education in action. The student-teachers were impressed with the innovative design and discipline crossover.
One teacher-candidate, Olivia Sugiharto, noticed a physics lesson on the white board posted in the kindergarten neighborhood.
"Seriously? They are working on physics…in kindergarten!" she stated. "I'm blown away. Hearing this morning about the district's high expectations and performance makes me want to work even harder to become a good teacher so that I can contribute to a school like this."
The group then boarded their bus for its final destination, MSU St. Andrews. There they were treated to lunch and additional presentations from other area schools. Staff from Bay City Public Schools, Bullock Creek Schools, Freeland Community School District, Meridian Public Schools, and Midland Public Schools, gave overviews of their respective districts.
Students were then put into small groups, which rotated among the five districts' representatives every 15 minutes, allowing more one-on-one discussion time.
The MSU students really enjoyed the format and were grateful to the district hosts for a very worthwhile day. Many had limited previous knowledge of Midland, but left feeling that Midland is a growing region with many opportunities and resources for teachers.
"My big takeaway today was that schools are moving toward environments and programming where teachers interact more," said senior, Ben Abreu. "Teachers are team teaching and building lesson plans around multiple disciplines and students are working in teams and doing more hands-on work. This is very real-world learning and the kind of place I'd love to teach."
MSU St. Andrews provides a wide range of valuable learning opportunities in science, technology, engineering and mathematics (STEM) to students, families, and teachers in the greater Midland area.