Summer Interns Present Research Results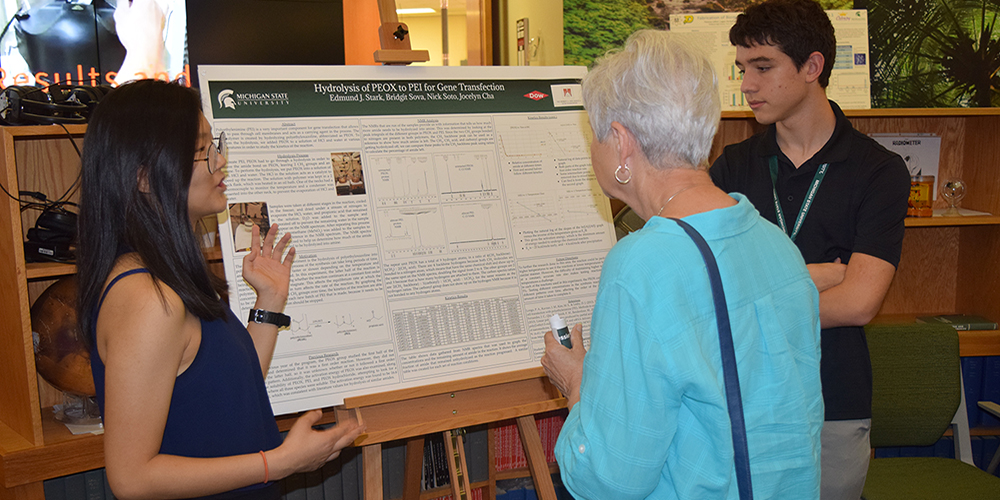 On August 14 and 15, over 200 guests were treated to presentations by interns from the 4th annual MSU St. Andrews summer research program. The presentations and following reception are the final wrap up of the eight-week research experience.
The night began with an introduction from Dr. Paul Hunt, Associate Vice President for Research and Innovation at MSU. He welcomed guests and gave an overview of the program at the St. Andrews facility. The program is designed to offer an honors level research experience and to solidify students' interests in future STEAM careers.
"There are no tests, grades, or competition, so the interns get a real taste of research," said Dr. Hunt.
Ten science, technology, engineering and mathematics (STEM) project groups used posters to present an overview of the research they conducted during the eight-week internship. Additionally, the writing group (the "A" for arts in STEAM) held a book talk where each intern read one of their stories from their published book, Less is More (ISBN: 978-1-947134-02-7). Interns, their families, preceptors, funders, teachers, and others packed into the Alden B. Dow-designed building for the event.
Rising seniors and recent high school graduates are mentored by Ph.D. scientists in computer programming, engineering, and chemistry projects. Some of the group's accomplishments this summer include creating new compounds, programming educational games, developing virus protection software, safely removing excess amounts of fluoride from drinking water in areas without access to mainstream filtration systems, and testing miticides on bees. Some have resulted in published research articles and licensed technologies.
In its second year, the writing group conducted interviews and wrote research reports about each of these projects. The writers also explored a variety of different styles such as creative fiction, creative nonfiction, business, persuasive, and journalistic.
MSU is grateful for the sponsors that make this program possible including the Dow Chemical Company Foundation, the Herbert H. & Grace A. Dow Foundation, the Rollin M. Gerstacker Foundation, and the Charles J. Strosacker Foundation.