Dow, MSU, Local Foundations Collaborate on New STEM Center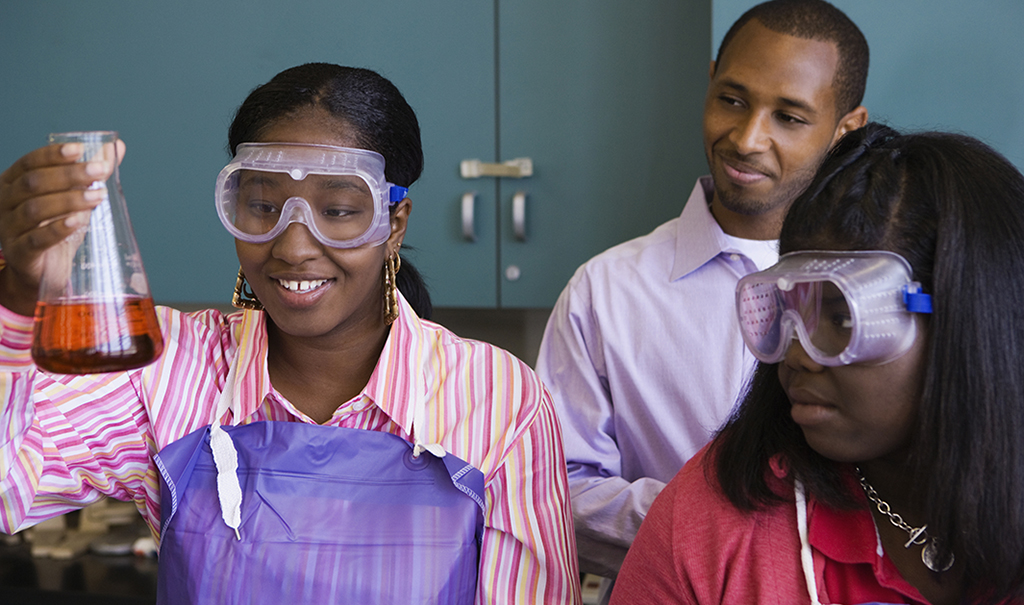 Creating more opportunities to motivate teachers, encourage students and empower young people to pursue careers in science, technology, engineering and math (STEM) is the inspiration behind the new Michigan State University (MSU) STEM Center for the Great Lakes Bay Region. The collaboration has been made possible with support from The Herbert H. and Grace A. Dow Foundation, the Rollin M. Gerstacker Foundation, the Charles J. Strosacker Foundation and The Dow Chemical Company Foundation.
Together, these foundations are working with MSU to invest $10 million into the MSU STEM Center, which will be located at the former Michigan Molecular Institute in Midland.
"We are proud to strengthen our already significant collaborations with MSU, which consistently ranks high in the nation for its educational programming," said Andrew N. Liveris, Dow Chairman and CEO. "By enabling our youth to become STEM problem solvers, we are investing in the shared future of our Company, our community and even our planet."
Curriculum at the Center will be targeted at K-12 learners and will also include select MSU course offerings for college students as well as innovative teacher enrichment programs in collaboration with MSU's College of Education. Students, teachers and administrators from Great Lakes Bay Region school districts, including Midland Public Schools, will be engaged in programming and implementation.
"With MSU's growing presence in Midland with the Midland Research Institute for Value Chain Creation and ongoing community investments through Momentum Midland, this partnership was a natural fit as we pursue more ways to broaden our research, educational, and economic impact in Michigan," MSU President Lou Anna K. Simon said.
A variety of concepts are under consideration as part of the overall STEM program offerings. They include a Dow Scientist-in-Residence program that offers learners access to Dow science professionals; laboratories equipped with global communication technology to enable connectivity around the world; and state-of-the-art STEM programming. Initial programming is expected to be launched in May 2016.
The MSU STEM Center is a further example of philanthropic and business support for Midland community development, similar to their support of Momentum Midland's effort to enhance Downtown Midland and the surrounding community.
"The Herbert H. and Grace A. Dow Foundation has a 45-year legacy of supporting scientific education and research in that very facility since the building opened in 1971," said Mike Whiting, president, The Herbert H. and Grace A. Dow Foundation. "This gift builds on that legacy and is further evidence of our desire to collaborate on community priorities, to make a collective and lasting impact."
About MSU
Michigan State University has been working to advance the common good in uncommon ways for more than 150 years. One of the top research universities in the world, MSU focuses its vast resources on creating solutions to some of the world's most pressing challenges, while providing life-changing opportunities to a diverse and inclusive academic community through more than 200 programs of study in 17 degree-granting colleges.
About Dow
Dow (NYSE: DOW) combines the power of science and technology to passionately innovate what is essential to human progress. The Company is driving innovations that extract value from the intersection of chemical, physical and biological sciences to help address many of the world's most challenging problems such as the need for clean water, clean energy generation and conservation, and increasing agricultural productivity. Dow's integrated, market-driven, industry-leading portfolio of specialty chemical, advanced materials, agrosciences and plastics businesses delivers a broad range of technology-based products and solutions to customers in approximately 180 countries and in high-growth sectors such as packaging, electronics, water, coatings and agriculture. In 2014, Dow had annual sales of more than $58 billion and employed approximately 53,000 people worldwide. The Company's more than 6,000 product families are manufactured at 201 sites in 35 countries across the globe. References to "Dow" or the "Company" mean The Dow Chemical Company and its consolidated subsidiaries unless otherwise expressly noted. More information about Dow can be found at www.dow.com.
###
For further information contact:
Jamie Ellis
Corporate Media Relations
The Dow Chemical Company R
jellis@dow.com
989-636-3325
Melanie Kauffman
Communications
Research & Graduate Studies
Michigan State University
kauffm59@msu.edu
517.884.0099